Technology's promise of protection, of which D-Air lab is the spokesperson, meets the power of fashion enclosed in Dior. An unusual combination, but effective: the strength of this collaboration exploded in the fashion show of Tuesday, March 1 in Paris, conveying images of strong women in their "armor".
Dior's iconic garments are enriched with elements dedicated to the protection of the woman's body: the Bar Jacket is proposed in two versions, the first equipped with airbags that follow the elaborate architecture of the jacket; the second one that reproduces the technology of the Antarctica project underwear, warming in case the body temperature drops. This second version of the Bar Jacket is, in fact, equipped with sensors capable of sensing drops in temperature, silver filaments that are able to convey heat where it is needed and channels that allow to move moisture upwards, keeping the body dry: a series of technical devices in which D-Air lab has put all its experience in the field of protection, managing (together with the joint use of the outer part of the Antarctica suit) to defend the body from the cold up to temperatures of -80 °.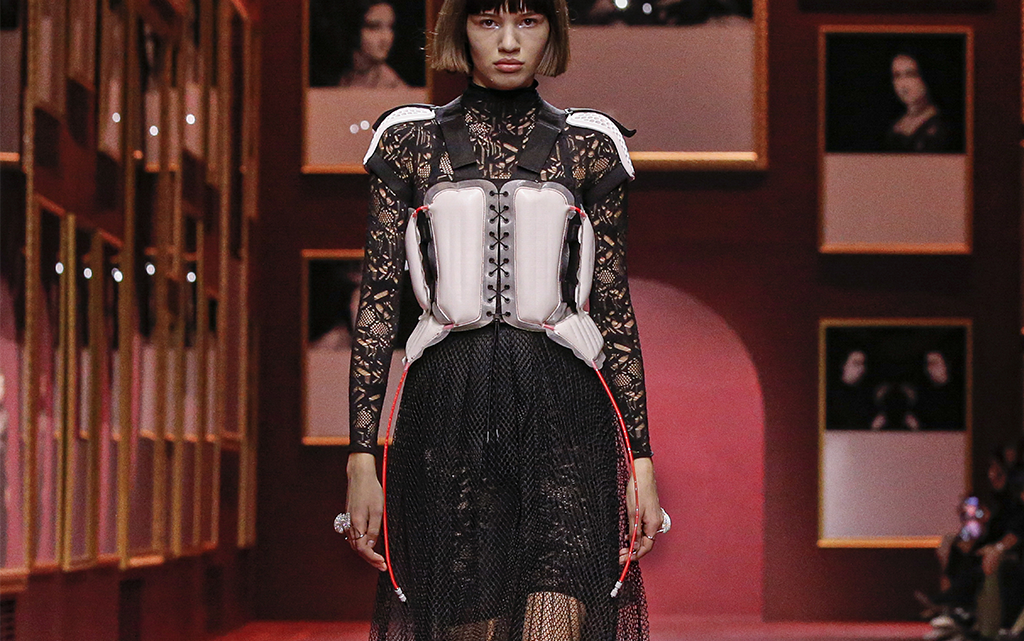 In the concept promoted by Maria Grazia Chiuri, Dior women's collections' Art Director, airbags used as capes and corsets, back protectors and gloves reminiscent of the motorcycle world and anti-twist anklets (used to protect the ankle) readapted as accessories for shoes also stand out. At the center of the show, however, stood out the black suit equipped with photoluminescent tubes that first made its entrance, immediately capturing the attention: this suit is a legacy of the various projects dedicated to space carried out by D-Air lab and Dainese over the years. The tubes located on the suit, in fact, are used to convey fluids that, as needed, heat or cool the body of astronauts, often subjected to extreme temperature changes.